The "M1 Mini Mega" board is an improved line-level amplification board meant to bypass the headphone amp output on a model 1 Sega Genesis and/or Mega Drive in all revisions except "VA7". The stock headphone output is bypassed with a line-level output that you can wire to RCA jacks or the original headphone jack on the front panel. The mod board itself is designed to be mounted 'anywhere' using a Scotch Mounting Pad (included in the kit), giving the user versatile control over installation of the mod. These mounting pads are strong and will not detach, but not so strong that you cannot remove them without damage to the system. The rated adhesive strength on these pads is 4 lbs, which is more than enough to keep the mod board firmly in place where you mount it.
The concept of this mod is to improve the upper range clarity for line level output, which is muffled by strong low pass filtering when using the stock headphone output jack for recording or connecting to your stereo receiver/amplifier. For a comparison of clarifty difference, take a listen to the file below for the difference in stock sound versus the M1 Mini Mega:
M1 Mini Mega vs M1 Stock Genesis/Mega Drive
Please be aware that the "VA7" revision model 1 Genesis console (the last revision they made before coming out with the Model 2) is not compatible with this board due to using an ASIC YM3438 chip layout (used in many model 2 revisions). The installation guide linked to near the bottom of this page will show the difference between the VA7 versus all previous model 1 consoles, so you'll know what to look for.

"M1 Mini Mega" Mod Board Kit Contents: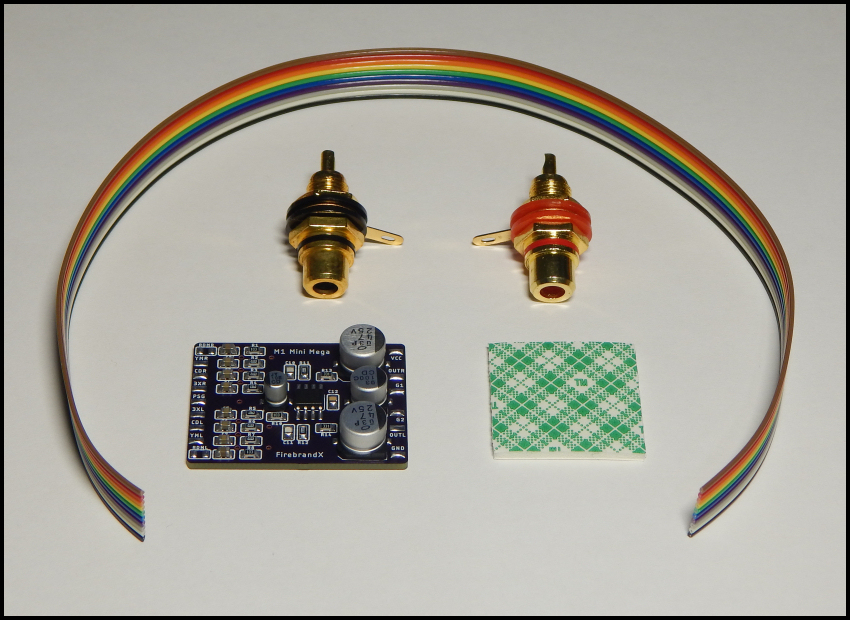 1. Main mod board with components installed.
2. Optional two "RCA" style female jacks with plastic washers and securing nuts.
3. One Scotch Mounting Pad
4. One foot of rainbow 28 AWG 10-line conductor wire.
Kits sold to USA residents (not including territories) are shipped in USPS priority mail small flat-rate boxes. Price per unit is $34.95 with RCA Jacks, or $31.95 without (select your choice in the paypal button drop-down options) with a one-time flat rate shipping/handling charge of $8.00 for up to 3 board kits. 4 or more kits will cost $16.00 shipping.
International residence: VideoGamePerfection.com will have the boards for sale in other countries outside the USA. We expect to have these international sales ready in January.
Payment method is paypal, please use the button below for placing an order within the United States:

Installation Guide:
Installation of the M1 Mini Mega board can be done any way you prefer due to the 'mount anywhere' nature of the board design. However, I've provided a step-by-step pictorial guide showing my own preferred no-cut method:

Sega Genesis/Mega Drive Installation Guide Example